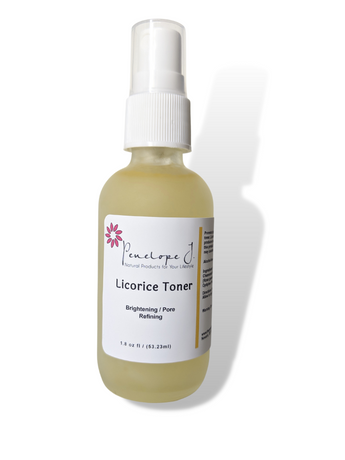 Licorice Toner
Regular price $ 10.00 $ 10.00 Sale
Licorice Toner
Promotes bright, even skin and less visible pores with this alcohol-free toner. Licorice has proven to slows down the process where your skin produces melanin, over time, your skin can become lighter. When using this product, it best to wear SPF to reduce sun exposure. Over exposing may counteract and thwart any of your skin-brightening efforts.

Alcohol-free witch hazel. 
Licorice helps control oil production and will also help reduce the redness

Licorice helps to speed up the process by blocking the melanin production and evening out the skin tone of dark scars

Witch Hazel reduces the appearance of pores
Directions: Hold 6 inches away from face, eyes closed. Spray over face. Allow to dry. Apply other creams and SPF afterwards.

Ingredients: Water, Witch Hazel, Aloe Vera, Licorice Root Extract, Chamomile Flower Extract, Vegetable glycerin, Pelargonium graveolens (Rose geranium), Sea Buckthorn Seed Oil, Moringa Oil, Aspen Bark Optiphen Plus.